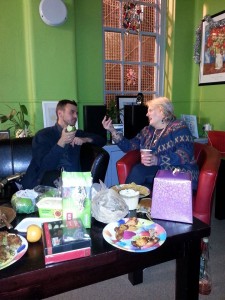 The REST group's christmas party was a great success again this year. We were joined by 13 attendees, including some old faces and a new member – as well as our regulars.
We would like to thank the kind donation of a member's sister, which made this party possible.
We hope the photos, below, capture a little bit of the warm atmosphere created on the evening.
About REST
REST (recovery experience sleeping pills and tranquillisers) is a free and confidential service, which exists to support individuals who experience or have experienced difficulties due to their benzodiazepine use. It is the only specialist benzodiazepine project in London/Greater London and one of only five in the country. No effective national campaign has ever been undertaken to help people withdraw from these drugs. Mind in Camden is one of the few agencies in the country to acknowledge and try to remedy the situation.
The aims of the project are to:
support those who are dependent on benzodiazepines and related compounds to understand and cope with their addiction, to plan and make a safe withdrawal, without recourse to any psychotropic medication.
inform, advise and support the families and friends of those affected.
inform and advise those professionally involved in the problems of benzodiazepine addiction.
educate people about alternatives to prescribed medication and to carry out preventative work to help people avoid becoming addicted to prescribed medication.
The project also helps people with associated issues that impact on their lives and their ability to cope with withdrawal.
Who Can Use This Service?
REST works with residents from the London Boroughs of Camden and Islington providing a service for existing, recovering, past or potential users of prescribed benzodiazepines, carers, friends or relatives of a tranquilliser user, or people who are using tranquillisers illegally/illicitly or in combination with other drugs. Referral routes include GPs and other providers of primary care, self-referral, community organisations, concerned others and secondary care services.
Feedback from Service Users
I thought I would just write to let you know – have now stopped taking Diazepam.  Finally managed to beat it … I really want to thank you so much as it was really your help with the Lorazepam – and – helping me get my GP to agree to the slow reduction that finally cracked it.

– Group and counselling client
* * *
As a user of Mind in Camden for nearly a year, I can say that it has changed my life dramatically.  I was diagnosed with PTSD (Post Traumatic Stress Disorder) and for two years would not leave the house.  The doctors put my on various Benzos, without which I would not be able to function without having panic attacks and no sleep.  The helpers in the group have helped me to stabilise on the tablets and to set a time table for coming off of them.  With their support I feel strong enough to take the path of withdrawing from the tablets knowing I have the confidence to do so.

The counselling I had put me back on the road to being able to face the world again.  The group sessions I attend every Thursday help me to keep myself grounded enabling me to deal with the world.  It's taught me that I'm not alone.  There are many more out there and in the group we all help and support each other.  The staff at MIND in Camden are friendly, honest, open and, above all, very helpful.  We can talk openly with the confidence of knowing everything and anything said remains confidential.

The group works in two ways – first, you get help from all the users, second, once you're on the road to recovery your input helps others to recover.

As proof of this, after not working for three years, spending a lot of time alone, I am now able to interact and am actually actively looking for work.  I have already got one interview under my belt.  This would have been unthinkable 12 months ago.

– Mark
Would you like to find out more, read our 'REST' section on this website.