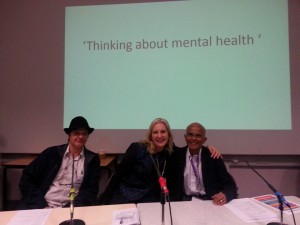 On Thursday 23 October 2014, Mark Schamely and Melanie Davis (from our REST Project) spoke at London Connect, arranged by London Metropolitan University's Faculty of Social Sciences & Humanities.
Mark and Mel (our Project Manager) spoke about co-production, a key part of what we do here at Mind in Camden. The presentation was very well attended by students, lecturers and local community groups and Mark and Mel's contribution sparked a very lively discussion and Q&A which was chaired by Professor Suman Fernando.
REST had a stall at the campus which Jay Kotecha and Mark Mordak volunteered to person and REST, Phoenix and Hearing Voices information was given out. Our information was very popular, so much so we had to get more photocopied at the venue!
Thanks to everyone who took part.
To find out more about the REST Minor Tranquillisers Service, click: here