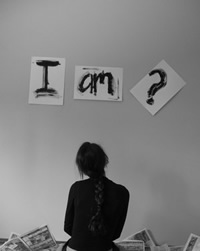 At the weekend, the Voice Collective team were joined by Sai Murray (one of the UK's leading youth slam poetry coaches) and a group of talented young people who also hear voices, see visions or have other unusual sensory experiences.
The workshop was powerful and creative, as the young people shared their experiences and how it impacts on the way they see themselves.
Whilst everyone wrote individual poems during the afternoon, the final performance consisted of a group poem performed by everyone who took part. Sitting in the audience, hearing the power of the words and the feeling behind them, I felt really privileged to bear witness.
I Am

Some people call me worthless.
Weirdo
Confusing
Random
Vindictive
Different
Eccentric
Yokel
Some people call me worthless, am I? Or is there just a part of me that has been shown in the wrong way?
But personally I think she's just happy.
So can you really blame me for being so secretive? If people react this way.
My clouded memory becomes a cloud.
The 7.22mm piece of brass in the head of my great uncle.
I slice your head whilst slicing bread.
From blood to brain to muscle to pen to page to stage.
The very end, the nothingness, the quiet beyond, no dream, no dreamer.
No dream, no dreamer.

I am the smell of cow dung and fresh-cut hay.
I am who I say I am depending on who is asking.
I am small, crazy, amazing, changing, stubborn, weird in your head. I'm different, a psycho, that's right not a typo.
I am sunrise in Mourne, and sunset in London.
I am undeniably awkward.
I am allowed to have problems. I am allowed to express myself.
I am allowed to be different. For I am allowed to be human.
Ignorant, stubborn, useless, not good enough, nice hair, suicidal freak, that girl, Colombian, immigrant, worthless, failure, f-ed up, self harmer, emo, selfish, creep, nice, funny, bitch, stupid, pretty, horrible, a mess, too fat, too skinny, lovely, weirdo, disgusting, illegal, pathetic, attention seeker, happy.

But I am not alone.