Day and Times: Wednesdays 7.00 pm to 8.30 pm
Joining: Telephone 0207 241 8973 or email referrals@mindincamden.org.uk in advance (see how to join). An assessment is required to determine readiness for the group.
Venue: Barnes House
About The Group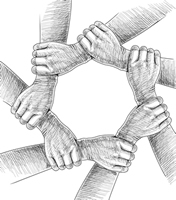 The psychological health group is slightly different to the other workshops that we run in that it is a formal long term therapy group. The group is suitable for people struggling with interpersonal or emotional issues, who are able to make a regular weekly commitment.
The group may help you feel less alone with the problems you face, as each person in the group will have something to offer you such as kindness, empathy, intuitive sense or straightforwardness that can help you. You can also discover at the same time you have something to offer them.
About The Facilitator
The group facilitator is: Richard Oliver