Day and Times: Wednesdays, 5.00 – 6.30pm (ongoing, join at anytime).
Joining: Telephone 0207 241 8973 or email referrals@mindincamden.org.uk in advance to find out more about the group, or just turn up on the day.
This group is free, and open to young people (aged 16-25) who have lived experience of hearing voices, seeing visions or other unusual perceptions (no matter where they live).
We ask all members to fill in this Self Referral Form for the group (so we have essential contact details etc).
Venue: Barnes House
About The Group
Somewhere between 4 and 10% of the population hears voices that other people don't. For most, it's simply not a problem – the voices are either supportive, transient or the person has a way of making sense of them that helps them cope. For some, however, the voices and visions can be overwhelming at times – causing confusion or fear. The stigma surrounding voices & visions can make it hard for people to open up and get support when they need it.
It can feel like there's no-one to talk to who will listen and understand.
This group provides a safe and supportive space for young people who have experiences like these to come together, share experiences and find ways of dealing with them. It is not treatment or therapy, but based on a strong ethos of peer support and self help. We welcome people whether or not they have a diagnosis of a mental health problem, and are open to different ways of seeing and understanding experiences like these.
The group is led by what members would most like to do, but discussion topics have included:
sharing experiences with one another
telling other people (friends, family, supporters)
people's experiences and thoughts on diagnosis
understanding 'why' we might have experiences like these
managing studying/work whilst hearing voices/having visions
different experiences of medication
finding ways of dealing with difficult experiences
dealing with 'paranoia' and fear
music and voices/visions
getting through a crisis
spirituality
dealing with stigma and discrimination
This group is supported by Mind in Camden's Voice Collective youth project (www.voicecollective.co.uk)
About The Facilitators
The VC 16-25 Voices & Visions Group facilitators are: Rai, Hanna & Alex.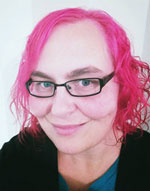 Rai is the manager of our London Hearing Voices Projects and has over 12 years experience of facilitating Hearing Voices Groups (for adults, adolescents & for people in prison/secure settings). She is a voice-hearer herself, having been diagnosed with 'schizophrenia / schizoaffective disorder' in her late teens/early 20s, but now no longer requires mental health services and has found a way of making sense of her experiences and living with them. Rai is a trustee of the National Hearing Voices Network and ISPS UK (International Society for Psychological & Social Approaches to Psychosis), an international trainer and a musician. In her spare time she enjoys chilling out by the sea, gigging and designing websites. She loves facilitating Hearing Voices Groups as these were pivotal in her own journey of recovery/healing.