A 4-day training course
25th February and 4th, 11th & 18th March 2014 @ Cockpit Arts (Holborn)
This course is suitable for anyone thinking of setting up or facilitating a Hearing Voices Group, including: People with lived experience of voices or visions; support workers; psychologists; OTs, social workers; therapists; nurses etc.
Download: LHVN Training – Spring 2014 Application Form
About Hearing Voices Groups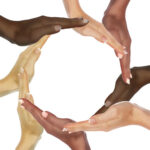 Since their inception in the late 80s, Hearing Voices Groups have become an established and valuable source of support for people who hear voices, see visions or have other unusual sensory perceptions. They provide a safe space for people to share and find ways of making sense of, and living with, their experiences.
There are over 180 Hearing Voices Groups in the UK, in a range of settings – including charities, user/survivor-led groups, prisons, inpatient units, CAMHS, Early Intervention Services, Forensic settings and community mental health teams. Hearing Voices Networks can be found in over 26 countries across 5 continents (including Uganda, USA, Denmark, Malaysia, Japan and Australia).
About This Course
This 4 day training course equips you with the knowledge, skills and confidence to either set up a new Hearing Voices Group or co-facilitate an existing one.
It includes:
Exploring diverse understandings of voices, visions & 'psychosis'
Coping strategies and pathways to recovery
Rethinking power & empowerment
Planning, launching & establishing safe and effective Hearing Voices Groups
Practical group facilitation skills and problem solving
Hearing Voices Network ethos
Course Fees
£300 (Full – statutory or commercial)
£200 (Reduced – including charity and voluntary sector agencies)
FREE (People with lived experience of hearing voices or seeing visions)
LHVN Training – Spring 2014 Application Form
To apply, please download and complete the application form and return it to:
London Hearing Voices Project, Mind in Camden, Barnes House, 9-15 Camden Road, London, NW1 9LQ