Sign up here to receive our monthly LHVN newsletter of trainings, conferences & events around London
Feb
7
Fri
Hearing Voices Group Facilitation Training

@ Cardboard Citizens
Feb 7 @ 10:00 am – Feb 11 @ 4:30 pm
A 3-day training course
Friday 7th, Monday 10th & Tuesday 11th February 2020
This course is suitable for anyone thinking of setting up or facilitating a Hearing Voices Group, including: People with lived experience of voices or visions; support workers; psychologists; OTs, social workers; therapists; nurses etc.
About Hearing Voices Groups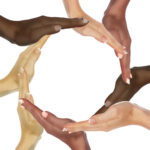 Since their inception in the late 80s, Hearing Voices Groups have become an established and valuable source of support for people who hear voices, see visions or have other unusual sensory perceptions. They provide a safe space for people to share and find ways of making sense of, and living with, their experiences.
There are over 150 Hearing Voices Groups in the UK, in a range of settings – including charities, user/survivor-led groups, prisons, inpatient units, CAMHS, Early Intervention Services, Forensic settings and community mental health teams. Hearing Voices Networks can be found in over 26 countries across 5 continents (including Uganda, USA, Denmark, Malaysia, Japan and Australia).
About This Course
This 3 day training course equips you with the knowledge, skills and confidence to either set up a new Hearing Voices Group or co-facilitate an existing one.
It includes:
Exploring diverse understandings of voices, visions & 'psychosis'
Coping strategies and pathways to recovery
Rethinking power & empowerment
Planning, launching & establishing safe and effective Hearing Voices Groups
Practical group facilitation skills and problem solving
Hearing Voices Network ethos
Course Fees
£300 – Statutory & Private
£200 – Charities & self-funded individuals
£100 – Students & self-funded individuals who work part-time only
FREE  – People with lived experience of voices
Feb
24
Mon
Sharing Power: Sustaining the Roots of Peer Support in Statutory Services

@ Kingsley Hall Community Centre
Feb 24 @ 2:00 pm – 5:00 pm
Voice Collective and Voices Unlocked are teaming up to deliver this FREE half-day conference.
Over the last 15 years, Mind in Camden's Hearing Voices projects have set up Hearing Voices groups and developed critical mental health training/workshops within an ideological framework determined by a grass roots peer support ethos. These trainings and groups have included training around how gender identity may impact someone's experience in services, launching groups specifically for women, and highlighting the importance of inclusivity around trans issues.
We've also taken this ethos with us into our work developing groups in a range of settings including: prisons, immigration removal centres, secure units, youth offending services, CAMHS inpatient and outpatient services, and youth centres.
We'll be reflecting on the value and challenges of setting up and facilitating Hearing Voices peer support groups in institutional settings:
• Can a 'real' Hearing Voices group take place in statutory services? Or is their radical nature too diluted?
• What are the particular challenges of facilitating a peer support group for paid staff, volunteers or service users?
• Are there specific considerations for Hearing Voices groups in youth services? How do we safeguard yet allow for positive risk taking in these types of groups?
• What can we do if we feel we're the only one in our community, organisation or workplace with an interest in Hearing Voices groups or other 'alternative' approaches?
Join us for an afternoon opened by keynote speaker Mirabai Swingler. You'll have the chance to join one of two workshops, we'll end the day with a panel discussion.
Who is the conference for?
The conference is for anyone who may have experienced or observed the challenge of retaining peer support values in institutional settings. Voice hearers and those with lived experience of distress or unusual sensory experiences are especially welcome.
You may be someone whose work and passion for peer support and/or Hearing Voices Groups embeds you within an institution, or you may work directly for the institution itself — for example, supporting children and young people, women, young offenders, people impacted by the justice system, or refugees and asylum seekers of all ages.
Examples of relevant organisations where peer support initiatives are often hosted can be CAMHS, youth services, prison/secure settings, immigration removal centres, organisations working with refugees & asylum seekers, schools, universities, hospitals and mental health services. Equally this half-day may also be of interest, if you are involved in an independent peer-led group in the community.