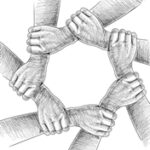 Hearing Voices Groups provide a safe supportive place for people in prison/secure units to share their experiences without fear of judgement or ridicule. This might not sound like much, but for those attending the groups themselves this can be a real sanctuary. Prison is a challenging enough environment as it is, hearing or seeing things that other people don't can make life inside that much harder.
The following feedback has been taken from recent arts workshops aimed at helping group members from HMP Holloway and HMP Wandsworth share their experiences, anonymously, as part of a short film.
"You get relief from opening up; it's like praying, like when you pray you get relief. It's like a new day, like everything is lifted off your shoulders. You can start again".
"It's horrible because you are closed in. Its like you are boxed in. You can't control how your are feeling. It's not a nice place to be and your paranoia is scary. All the 'normal' people around you look at you like you're crazy.

But the group is an escape. Its not like being in prison. I like the group. You can come on a Monday morning and release all of the pressure that's built up during the weekend or the week. When you're in the group you don't feel alone. You've got that support network. No-one will laugh at you. I like the shared experience.
You shouldn't feel shame about having a mental health problem.

A problem aired is a problem shared."
"I don't like that other people are suffering, but you can get input on how to deal with things. It doesn't go away, but I am finding I can manage it a bit easier. But I still think there is stigma about voices in general."
"You can open up more in the group, but not on the landing because people don't understand if they are not going through it, or have not had training. It's hard to talk to staff, but in the group I can."
If there was no Hearing Voices Group available in prison …
"It would affect us. There would be no-one to talk to, no-one to help. I'd talk to myself in the mirror if there was no-one else. I talk to myself in the mirror sometimes, but not so much now."