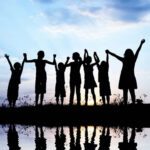 When young people first come to Voice Collective they often tell us that they felt like they were the only person in the world who hears voices or sees visions. They might describe feeling like a 'freak'. From our perpective, this couldn't be further from the truth. Voices and visions are a common human experience, especially in childhood and adolescence. Meeting other young people who have similar experiences is a key part of peer support – and it's something we have found to be very important to the young people we meet.
This page shares some of the experiences of the young people we work with. Everything here is contributed voluntarily, and is written in the young person's own words.
'A Little Insight' Voice Collective Animation
During 2012, 5 young people (aged 12-18) came together to create a short animation from the ground up. The young people wrote, filmed and edited the animation, with the support from Aoife from Chocolate Films. The result is pretty stunning and has reached the shortlist of the Rob Knox 2013 Film Festival.
Eoin's Story
"I have co-existed with my voices for as many years as my memory can recall. It started off mainly as a mixture of a positive, but occasionally bothersome, experience. I was comfortable with our coexistence for many years, until when I was 14, when the voices really turned up the heat and the volume. I gradually descended into a set of beliefs surrounding myself, as my voices became increasingly angry and violent. One of them vanished, and in the vacuum the other began speaking twice as much.

Luckily I was able to contact Voice Collective relatively early into my distressing experiences, and they really helped. I hopped in and out of hospital like it was going out of fashion, and received a diagnosis which I didn't really agree with. I've began to develop a working relationship with my voice, and tried to understand her and what drives her.

I don't think 'recovery' and 'not hearing voices' are the same thing- if anything, I get more upset when I have a period of 'silence'! My voices have been a very formative experience in my life, and with Voice Collective's help, I'm discovering more about my self and my experiences than being labeled or medicating ever could".
Ashley's Story
Ashley and her mum kindly contributed their experiences, anonymously, to a feature on BBC London to support their Children In Need Appeal. You can view the feature on the BBC Website: www.bbc.co.uk/news/uk-england-london-15656353
When I hear voices and see things I feel very scared. They threaten me every day, ask me to do things I do not want to do … something I know is wrong and unsafe. They also tell me people are spying on me or people are not who they are not who they say they are. They can also shout at me or talk about what I am doing to each other. At times I feel as if they are in control of me or of those around me. When it is at its worst I feel as if I am trapped in another world, I cannot escape.

I used to have 12 voices (they are the voices of children), but now there are more. I see a man in black, who follows me around and threatens me, the spirits of 3 children he murdered and a person, who sometimes appears as a woman and sometimes as a child, who has a badly scarred face. I aslo see aliens, spiders, scorpians, spirits, things changing colour or . At times I struggle to cope and have felt suicidal because I have to cope with this every day.

No one else hears MY voices – only me (they told me I was the chosen one), but through the project I have met other people who hear voice too, so I know I am not alone.

I cannot remember a day when I did not hear the voice, because they began when I was so young.

It is hard for people to understand how it feels to hear voices and see things. When I was in hosptial someone told me I was imagining the voices. This really upset me, because it was not true. I began to feel as if people thought I was lying and I did not want to talk about it to anyone. When I do, I feel embarrassed and worried about how they wil react. I do not feel doctors always understand.

My mum has always been there for me since the beginning. She helps me to feel safe and uses excercises and games to help distract me. If I want to talk about the voices I can, but she never forces me, it is my choice. Sometimes I just need a hug. I also have a supportive sister.

The Voice Collective Project has been amazing. They really understand me and how I feel, because they have heard voices too. I know they believe me too, which is important. They help me to challenge the voices and and feel safer by giving me coping strategies. I go to a weekly group where I have met other young people who are experiencing similar, which has helped me to realise I am not alone. I also meet with the project individually or communicate with them by telephone or email.

They are always there for me. They focus on the postive aspects of what I achieve, not on what I do not acheive and are always there to listen. I have also particpated in art and drama workshops with the project, which were brilliant. I trust everyone at the project and they know and understand me too. They have really helped me and I will always be thankfull to them.