Sign up here to receive our monthly LHVN newsletter of trainings, conferences & events around London
Sep
19
Thu
Hearing Voices Group Facilitation Training

@ Cardboard Citizens
Sep 19 @ 10:00 am – Sep 24 @ 4:30 pm
A 3-day training course
Thursday 19th, Monday 23rd & Tuesday 24th September 2019
This course is suitable for anyone thinking of setting up or facilitating a Hearing Voices Group, including: People with lived experience of voices or visions; support workers; psychologists; OTs, social workers; therapists; nurses etc.
Download application form:  app form Hearing Voices Training – September 2019
About Hearing Voices Groups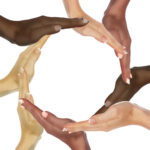 Since their inception in the late 80s, Hearing Voices Groups have become an established and valuable source of support for people who hear voices, see visions or have other unusual sensory perceptions. They provide a safe space for people to share and find ways of making sense of, and living with, their experiences.
There are over 150 Hearing Voices Groups in the UK, in a range of settings – including charities, user/survivor-led groups, prisons, inpatient units, CAMHS, Early Intervention Services, Forensic settings and community mental health teams. Hearing Voices Networks can be found in over 26 countries across 5 continents (including Uganda, USA, Denmark, Malaysia, Japan and Australia).
About This Course
This 3 day training course equips you with the knowledge, skills and confidence to either set up a new Hearing Voices Group or co-facilitate an existing one.
It includes:
Exploring diverse understandings of voices, visions & 'psychosis'
Coping strategies and pathways to recovery
Rethinking power & empowerment
Planning, launching & establishing safe and effective Hearing Voices Groups
Practical group facilitation skills and problem solving
Hearing Voices Network ethos
Course Fees
£300 – Statutory & Private
£200 – Charities & self-funded individuals
£100 – Students & self-funded individuals who work part-time only
FREE  – People with lived experience of voices or beliefs
To apply, please download and complete the application form:  app form Hearing Voices Training – September 2019
then return it to:
London Hearing Voices Network, Mind in Camden, Barnes House, 9-15 Camden Road, London, NW1 9LQ
Sep
27
Fri
I is for Insult: questioning "Borderline Personality Disorder"

@ Cardboard Citizens
Sep 27 @ 10:30 am – 5:00 pm
Workshop
This one-day workshop will cover both practical and theoretical approaches to the disputed diagnosis of "Borderline Personality Disorder", facilitated by someone with lived / living experience of these issues.
It aims to strike a balance between questioning the construct and discussing practical approaches to some of the difficulties associated with it. This is to minimise the risk that in the context of ever-decreasing budgets, changes in theoretical approach could inadvertently restrict access to support.
What we will cover
Feminist and queer issues around "Borderline Personality Disorder".
Is Complex Post Traumatic Stress Disorder a viable alternative to "BPD"? What might ICD-11 mean for those currently diagnosed?
Everyday trauma: day-to-day erosion and the idea of "a stable sense of self".
The multiple meanings and functions of self-harm.
Practical and creative approaches to self-harm and suicidality, including harm minimisation, managing clinical fear of risk, and particularly the minimisation of iatrogenic harm.
Who is this training for?
This training is intended for anyone with a personal and/or professional interest in "Borderline Personality Disorder" and related issues such as self-harm, suicidality, and trauma. It is not a therapeutic workshop but survivors / service users and clinicians, support workers, etc., are welcome. Attendees should expect some of the subject material to be difficult and possibly triggering, but will be welcome to take a break at any point during the day.
About the trainer
Rachel Rowan Olive is an illustrator, researcher, and mental health service user/survivor with a particular interest in women's mental health. She combines her artwork and research experience to facilitate training; her work has appeared in Asylum magazine, on the Mental Elf website, and in the Independent. She is a trustee of the National Survivor User Network. You can find her on twitter and Instagram as @rrowanolive.
Fees*
Unwaged: £12
Self-funding part-time earners, and students: £50
Self-funding full-time earners, and voluntary sector organisations: £100
Private and statutory organisations (including NHS): £125
*The full fee will be chargeable if you cancel less than 7 days before the event
For more information on booking, please contact:
Akiko Hart
ahart@mindincamden.org.uk
Mind in Camden, Barnes House, 9-15 Camden Rd, London, NW1 9LQ