Sign up here to receive our monthly LHVN newsletter of trainings, conferences & events around London
Nov
29
Thu
Paranoia & Beliefs 3-day Group Facilitation Training

@ Conway Hall (Brockway Rm)
Nov 29 @ 10:00 am – Dec 4 @ 4:30 pm
THIS IS A THREE-DAY COURSE:
Thursday 29th, Monday 3rd & Tuesday 4th December 2018
This is an innovative training course giving facilitators the necessary skills and confidence to set up and sustain a Paranoia & Beliefs Group.
Are you interested in facilitating a peer support group for people who struggle with paranoia and beliefs?
Or are you part of an organisation already committed to developing a peer support group with us?
About the course
The course covers the following main areas:
Understanding the experience of 'Paranoia' and the distress that can be related to beliefs
Different ways of making sense of paranoia and beliefs
Developing a repertoire of coping strategies to help people take back control of their lives
Helping people explore their beliefs in a peer support group context
Practical skills for group facilitation
Setting up, launching and sustaining Paranoia Peer Support Groups
Fees
£300 – Statutory & Private
£200 – Charities & self-funded individuals
£100 – Students & self-funded individuals who work part-time only
FREE  – People with lived experience of voices or beliefs
Dec
4
Tue
Advanced Working with Voices (Level 3)

@ Amnesty International UK (Conference Room)
Dec 4 @ 10:00 am – 4:00 pm
Those of us who support children and young people who hear distressing or difficult voices are constantly developing, finding new ways to approach voice-hearing with young people and support them towards their self-defined recovery.
Each young person and family is unique – one size does not fit all.
About This Workshop:
This workshop builds upon the principles explored in our 'Supporting Children & Young People who Hear Voices' training, and our 'Voice Collective Group Facilitation Training'.
Using examples drawn from attendee's prior experience of working with young voice-hearers, the workshop explores the following topics:
Developing trust and therapeutic relationships with young people who may not trust easily
Understanding 'taboo voices' (voices that talk about things the young person – and society – find very difficult, including violence & sexuality)
Finding safe ways of talking about voices and visions with young people in distress
Working with different, and often conflicting, perspectives on a young person's experiences
Working with alternative belief systems (e.g. cultural or spiritual perspectives)
Using creativity to support conversations
Applying this learning within the workplace
We keep class sizes small to maximise the opportunity for discussion & reflection.
We require applicants to have attended either our 'Supporting Children and Young People who Hear Voices' training course, or our 'Voice Collective Group Facilitation' training course.
Fees:
This is a FREE training course for anyone working with children or young people who hear voices, see visions, or have other sensory experiences.
Important Information:
This course is open to those who support children and young people (in a variety of settings) and who have attended a previous 1-day our 3-day training with us (listed above).
Please only book a place if you are confident that you can attend the course. If you can no longer attend the training, please inform us in writing on info@voicecollective.co.uk, and your place will be offered to someone on our waiting list.
Please complete as much of the booking form as you are able to. This information is helpful to us, and is kept confidential within the service.
Certificates of attendance will be given upon request after the training
Mar
7
Thu
Hearing Voices Group Facilitation Training

@ Conway Hall
Mar 7 @ 10:00 am – Mar 12 @ 4:30 pm
A 3-day training course
Thursday 7th, Monday 11th & Tuesday 12th March 2019
This course is suitable for anyone thinking of setting up or facilitating a Hearing Voices Group, including: People with lived experience of voices or visions; support workers; psychologists; OTs, social workers; therapists; nurses etc.
Download application form: app form Hearing Voices Training – March 2019
About Hearing Voices Groups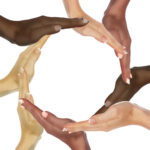 Since their inception in the late 80s, Hearing Voices Groups have become an established and valuable source of support for people who hear voices, see visions or have other unusual sensory perceptions. They provide a safe space for people to share and find ways of making sense of, and living with, their experiences.
There are over 180 Hearing Voices Groups in the UK, in a range of settings – including charities, user/survivor-led groups, prisons, inpatient units, CAMHS, Early Intervention Services, Forensic settings and community mental health teams. Hearing Voices Networks can be found in over 26 countries across 5 continents (including Uganda, USA, Denmark, Malaysia, Japan and Australia).
About This Course
This 3 day training course equips you with the knowledge, skills and confidence to either set up a new Hearing Voices Group or co-facilitate an existing one.
It includes:
Exploring diverse understandings of voices, visions & 'psychosis'
Coping strategies and pathways to recovery
Rethinking power & empowerment
Planning, launching & establishing safe and effective Hearing Voices Groups
Practical group facilitation skills and problem solving
Hearing Voices Network ethos
Course Fees
£300 – Statutory & Private
£200 – Charities & self-funded individuals
£100 – Students & self-funded individuals who work part-time only
FREE  – People with lived experience of voices or beliefs
To apply, please download and complete the application form: app form Hearing Voices Training – March 2019
then return it to:
London Hearing Voices Network, Mind in Camden, Barnes House, 9-15 Camden Road, London, NW1 9LQ