Sign up here to receive our monthly LHVN newsletter of trainings, conferences & events around London
Jan
29
Tue
Compassion Focused Therapy and the courage of compassionate relating with emotional parts, selves, and voices

@ Cardboard Citizens
Jan 29 @ 10:00 am – 4:30 pm
CFT and the courage of compassionate relating with emotional parts, selves, and voices
Trainer: Charlie Heriot-Maitland

ABOUT THE COURSE
Compassion Focused Therapy (CFT; Gilbert, 2009; 2010) aims to help people regulate threat-based emotions, experiences, and conflicts by building internal feelings of safeness and connectedness, and by providing contexts, practices and insights that facilitate the development of compassion to self and others. As such, CFT can offer a useful framework for approaching  mental health and wellbeing challenges at each of the personal, professional, organisational, and community levels.
In this workshop, we will explore how our evolved minds can be orientated in certain ways depending on our social motives, and consider evidence of how orientating our minds towards compassion for self and others can bring a variety of positive mental and physical and health benefits. The workshop will introduce ideas on how we might develop compassion for ourselves, as well as facilitate the development of compassion among others, including those who are experiencing distress in relation to voices and other experiences. We will also consider ways of creating social contexts and environments in which compassion may flourish. A combination of group discussion exercises and experiential practice will be used.
ABOUT THE TRAINER 



This workshop will be led by Dr Charlie Heriot-Maitland, a clinical psychologist, researcher, and trainer (University of Glasgow and Balanced Minds). He is currently researching the social context of anomalous experiences and the application of Compassion-Focused Therapy (CFT) for people experiencing distress in relation to psychosis. He provides psychological therapies for a CFT practice called Balanced Minds in London and Edinburgh, and also runs compassion training workshops for pract

itioners and the general public.
Mar
7
Thu
Hearing Voices Group Facilitation Training

@ Old Diorama Arts Centre
Mar 7 @ 10:00 am – Mar 12 @ 4:30 pm
A 3-day training course
Thursday 7th, Monday 11th & Tuesday 12th March 2019
This course is suitable for anyone thinking of setting up or facilitating a Hearing Voices Group, including: People with lived experience of voices or visions; support workers; psychologists; OTs, social workers; therapists; nurses etc.
Download application form:  app form Hearing Voices Training – March 2019
About Hearing Voices Groups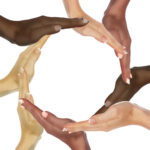 Since their inception in the late 80s, Hearing Voices Groups have become an established and valuable source of support for people who hear voices, see visions or have other unusual sensory perceptions. They provide a safe space for people to share and find ways of making sense of, and living with, their experiences.
There are over 180 Hearing Voices Groups in the UK, in a range of settings – including charities, user/survivor-led groups, prisons, inpatient units, CAMHS, Early Intervention Services, Forensic settings and community mental health teams. Hearing Voices Networks can be found in over 26 countries across 5 continents (including Uganda, USA, Denmark, Malaysia, Japan and Australia).
About This Course
This 3 day training course equips you with the knowledge, skills and confidence to either set up a new Hearing Voices Group or co-facilitate an existing one.
It includes:
Exploring diverse understandings of voices, visions & 'psychosis'
Coping strategies and pathways to recovery
Rethinking power & empowerment
Planning, launching & establishing safe and effective Hearing Voices Groups
Practical group facilitation skills and problem solving
Hearing Voices Network ethos
Course Fees
£300 – Statutory & Private
£200 – Charities & self-funded individuals
£100 – Students & self-funded individuals who work part-time only
FREE  – People with lived experience of voices or beliefs
To apply, please download and complete the application form:  app form Hearing Voices Training – March 2019
then return it to:
London Hearing Voices Network, Mind in Camden, Barnes House, 9-15 Camden Road, London, NW1 9LQ
May
3
Fri
Exploring Mindfulness and Voices

@ Brockway Room, Conway Hall
May 3 @ 10:00 am – 4:30 pm
Exploring Mindfulness and Voices
Trainer: Andy Phee
ABOUT THE WORKSHOP
Using mindfulness practice to support others and ourselves
A day of practice, exploration and reflection, suitable for hearing voices group facilitators, mental health workers and people living with voices or distressing beliefs.
The workshop includes mindfulness practices throughout the day and interactive exercises in pairs and small groups. We aim to explore
Grounding and promoting safety

Mindfulness practices in everyday life

The breath and the body in mindfulness practice

Mindfulness meditation practices and adaptions

Mindful Movement

Mindful listening and being with others mindfully
Additionally, there will be space to discuss
Why mindfulness can be helpful

When mindfulness may and may not be helpful

Trauma sensitive mindfulness

The current evidence base for mindfulness and voice hearing and paranoia

Materials to support mindfulness practice such as guided recordings

Mindfulness and other approaches and therapies.

Starting a mindfulness practice and practising together in groups
ABOUT THE TRAINER
Andy Phee's background was in community mental health nursing. He facilitated a Hearing Voices Group in Camden for many years. More recently since training to teach mindfulness, he has been facilitating mindfulness groups for people experiencing distressing voices and paranoia. He has been practising meditation and mindfulness for 20 years.