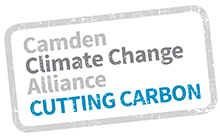 We are strongly committed to sustainable solutions and practices in all areas of our work. On this page we would like to share with you what we are doing and what we have achieved so far.
Improving our C02 footprint
We have monitored our carbon footprint at our main centre, Barnes House, for more than 10 years.
In 2011 our carbon footprint was 43.6 CO2
In 2020 our carbon footprint was 25.4 CO2
A 40% reduction!
We achieved quite a large reduction at the outset, and as the years pass by, the step down in emission gets correspondingly smaller as we get more efficient, but we aim to reduce it every year.
How?
Environmentally-friendly actions: recycling, refurbishing, green purchasing, switching off, supporting our charity shop, becoming more plastic-aware
Encouraging members, volunteers and staff to join in
With wonderful support from Camden Climate Change Alliance who monitor our footprint and give constant encouragement. We currently hold their "Cutting Carbon" award: camdencca.org
And more benefits...
A volunteer has created tranquil and beautiful patio gardens where people can relax
We have partnerships with like-minded organisations such as FEAST!, the Green Gym, Castlehaven's online Community Garden project, The Abbey Centre's Re-cycled art workshops
Camden's Recyling Rewards scheme – which rewards Camden residents and local charities and encourages local shopping. We are very grateful for the local community voting for us, which has resulted in several generous donations: https://camden.localgreenpoints.com/about