The Community Programme serves to support members in identifying and accessing local community organisations through a tailored programme of free activities.
The programme works with adults 18+ who may be struggling with their mental health, isolation or social exclusion, and supports them in reconnecting with their community. Members have access to a wide range of workshops, social spaces and courses accessible for free for Camden residents.
For members who require additional support accessing the programme, volunteer navigators offer 1:1 sessions to create a personal development plan identifying members' individual needs, goals and barriers to enable them to access the sessions they want.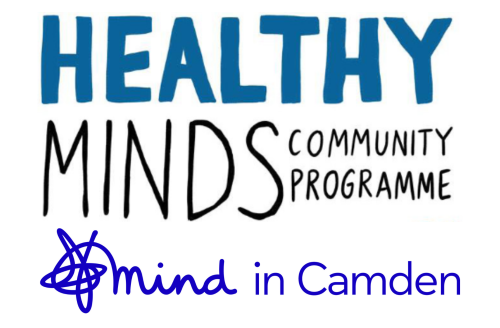 Healthy Relationships Personal Development Group
We strongly believe in community and community is built on relationships. For people who struggle with their relationships or want to know more about how they relate to others, we run a 12 week Healthy Relationships Personal Development Group.
The Group runs twice per programme year and is open to eight members. The Group is co-facilitated by two senior trainee Gestalt psychotherapists. We maintain a waiting list throughout the year.
To register your interest for the group, please complete the Healthy Relationships Referral form below. Please note, you must be a registered Healthy Minds Member to join.
Can I find out more before I commit myself?
Yes, you are welcome to attend one of our monthly coffee mornings to find out more. They are on the first Wednesday of the month from 11 am to 12.30 pm.
I would like to refer someone to the service, how do I do that?
Simply complete the HMCP Referral Form, which you can find below.
Can I refer myself to this programme?
Yes, you can either complete the HMCP Referral Form below or you can self-refer via telephone: 020 7241 8996
What then?
You will be invited to an initial meeting with a member of our team. We will give you more information about the programme and the support we can offer. We will help you to assess your support needs and ensure that the programme is the most suitable service for you.
Is there any limit to the number of activities I can join?
No! Once you register with us you are free to join as many or as little activities as you like for 12 months. However, spaces are limited so sign up early to avoid disappointment. Once your time with us has ended, you can still join us for our regular coffee mornings or become an ambassador for your favourite sessions.
Is there a waiting list?
Not if you just want to start using the service. If you need additional support with one of our navigators, there might be a short wait.
Do I have to pay for any of the activities?
No – the programme is free.
"I thought the Healthy Minds Programme would help me to be less isolated, but really what I didn't expect is to make new friends. There is nothing nicer than turning up to activities and seeing familiar faces. It has been wonderful."
"It was your organisation that broke the curse. After 6 months you gave me a bursary for an art course at the Mary Ward centre and the last thing I did with you after being with you for 11 months was the Portugal Prints course. It released me. Since then I have been painting every day and will be holding an exhibition at Saint Pancras hospital sometime soon, I even painted a piece called Mind in Camden! Portugal Prints also put me in touch with Sane, they have arts grants. I've applied to start a course at the Working Men's college so I may be going back to school soon! Thank you for everything. it gave me purpose."
"I have so enjoyed by time at Healthy Minds. I have met new people; done lots of different things; had support in terms of navigators and Georgia and Elisha. It's a brilliant programme which gets me out of my head and out and about. It's been an amazing year!"