Day and Times: Tuesdays 10.45am-11.45am
Dates: April – June 2016
Joining: Telephone 0207 241 8973 or email referrals@mindincamden.org.uk in advance (see how to join) or just turn up if you are already using Mind in Camden services or are paying for the class yourself.
Venue: Barnes House Main Space
About The Workshop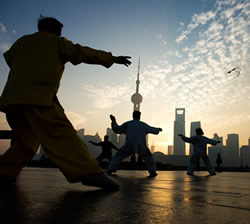 The session will cover a variety of Tai Chi and Qi Gong material.  Tai Chi will help you regain awareness of your body, while you become stronger and more flexible.  At the same time, learning the elegant and graceful movements of the 24 Step Short Form will improve your balance, coordination and overall health.
Qi Gong will help improve mind-body relaxation. We will be working on breathing while learning gentle and easy-to-follow movements from traditional Qi Gong sets. We will also explore the meditative aspect of the discipline through visualisations and guided meditations.
About The Facilitator
Tomoko is a Tai Chi & Qi Gong instructor at Mei Quan Academy of Taiji.