12/10/2016:
SHP Recovery Project
Steve and REST manager presented to the SHP recovery project team at the London Irish Centre.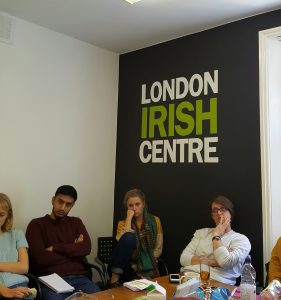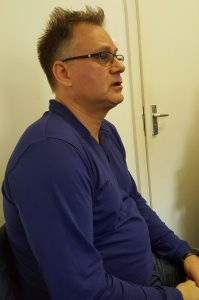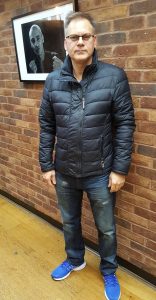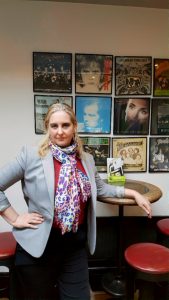 ---
10/10/2016:
World Mental Health Day
Tim Bleech REST member reading a poem he wrote for the event.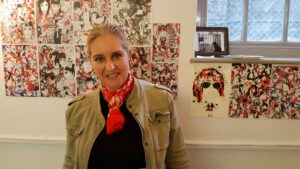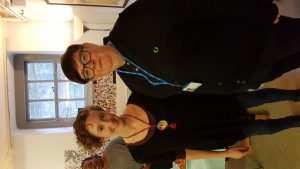 :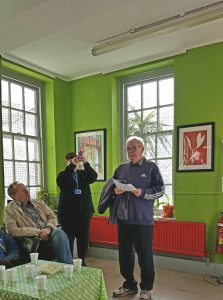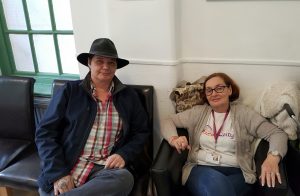 ---
19/9/2016:
Keir Starmer Surgery for Mind in Camden
---
21/9/2016:
Fibromyalgia Support Group
Lucy service user and REST manager spoke to a fibromyalgia support group.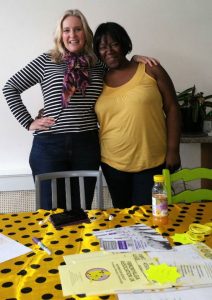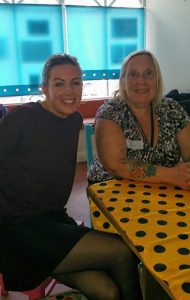 ---
7/2016:
Frontline
Matthew Follows service user and Manager Melanie Davis spoke at Frontline, the drug user group for Camden. Melanie Davis gave a brief introduction to the service, Matthew told his story and then both took questions. The meeting was well attended by drug service users, some of whom had had experience with benzodiazepines.
---
11/7/2016:
World Benzodiazepine Awareness Day:
The 11 July 2016 was the inaugural World Benzodiazepine Awareness Day, part of a campaign to raise global awareness about the issue of doctor-induced benzodiazepine dependency, which affects millions of people worldwide and can lead to debilitating withdrawal symptoms that may last for weeks, month or even years.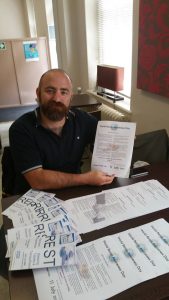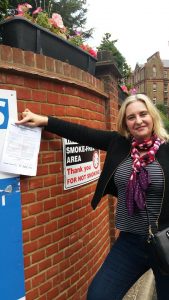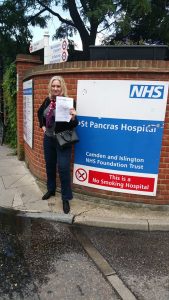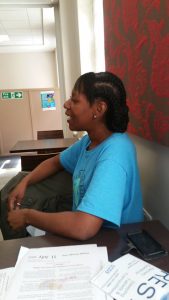 Rest Service User and Manager promoting REST during the World benzo awareness day at the St Pancras Hospital.
Service User Donna speaks about the world benzo awareness day.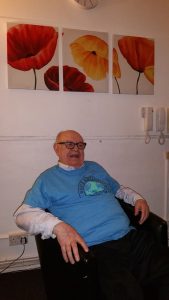 John from the REST project loving life in his 83rd year and off benzodiazepines for 22 years. Living proof that a good life after benzodiazepines is possible. He never forgets his severe suffering in protracted withdrawal but wants everyone to know how good things can be on the other side
Other service users looking awesome in
their "world benzo awareness day"T-shirts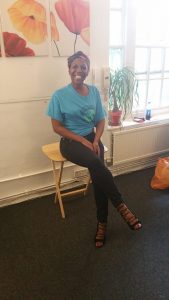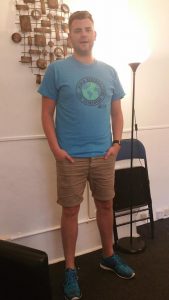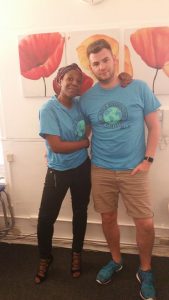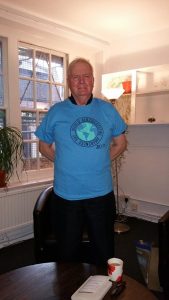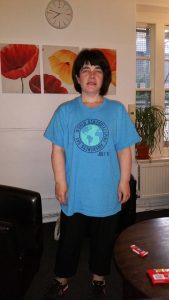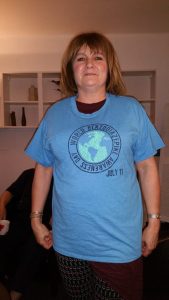 ---
30/6/2016:
CRI Margaret Centre – Manager spoke to staff at the Centre and offered a benzo quiz.
"Many thank to Dominic for inviting me to speak and the team were glad to know there is extra support in the borough for benzodiazepine users and hope to refer people to us." (Melanie Davis)
---
23/6/2016:
Manager and Jilly Moore attended the roundtable event of the Solicitors Regulation Authority: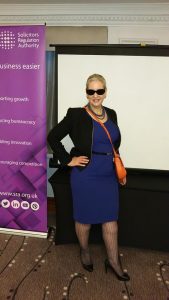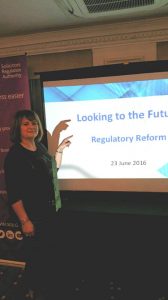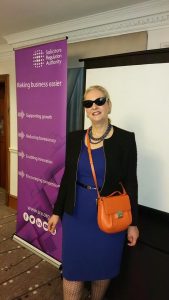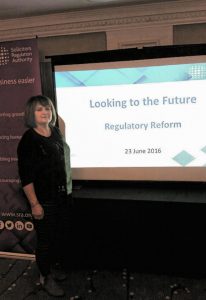 ---
7/6/2016:
Melanie Davis at the British medical association: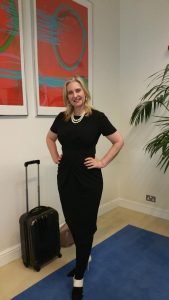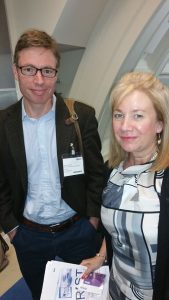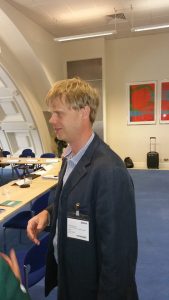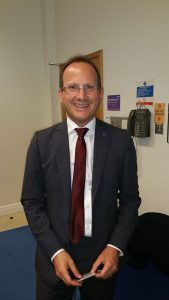 Picture 1: Manager Melanie Davis
Picture 2: Beverley Thorpe with Dr James Davies
Picture 3: Luke Montagu
Picture 4: Peter Kinderman
---
20/5/2016:
REST at the Mental health awareness week  – St. Mungo´s Festival
at Camley Gardens Nature Park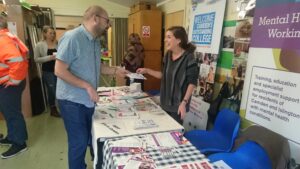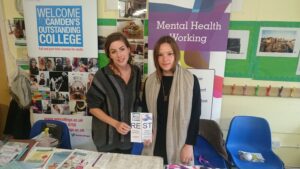 ---
11/05/2016:
Melanie Davis representing REST at House of Lords and Portcullis House for a meeting of the All Party Parliamentary Group for Prescribed Drug Dependency (APPG for PDD).
'Rising Prescriptions, Rising Mental Health Disability: Is There a Link?'
Politicians and experts met at parliament to explore link between record antidepressant prescribing and disability. The All-Party Parliamentary Group for Prescribed Drug Dependence met on 11 May 2016 at Westminster to discuss evidence of the link between the rise in disability claimants and the record level of antidepressant prescribing. The event is being hosted by Paul Flynn MP, co-chair of the APPG of PDD.
(Melanie Davis is a member of the APPGPDD).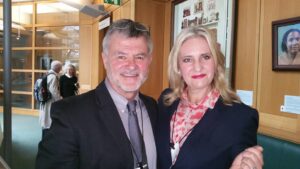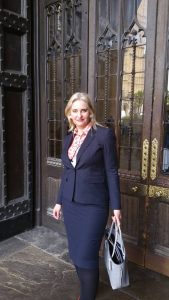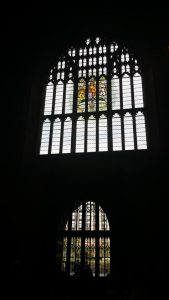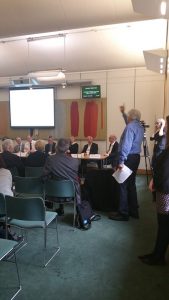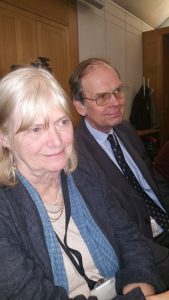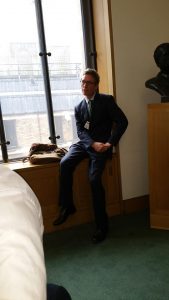 (Melanie Davis REST service manager with Robert Whitaker author of "Anatomy of an Epidemic", Lord and Lady Sandwich, Dr James Davies and Dr Alison Tierney)
---
18/3/2016:
REST at the Wellcome Trust,invited by UCL pharmological department to present at an event called The Age of Anxiety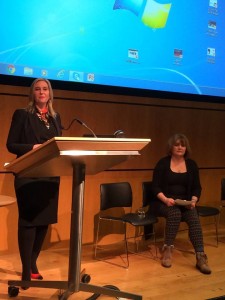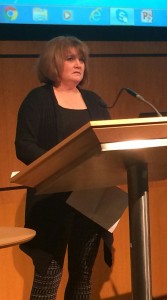 Melanie Davis Service Manager and Jilly Moore Service User.
---
25/2/2016:
Melanie Davis at an British Medical Association (BMA) meeting:
The British Medical Association held a meeting on 25 February to agree actions required to tackle prescribed drug dependence, covering benzodiazepines, z-drugs, antidepressants and opiate painkillers. This follows the BMA's request for evidence on this issue in 2014, which led to the publication of their analysis report last year.
The meeting was chaired by Baroness Hollins and included representatives from the Royal College of Psychiatrists, the Royal College of GPs, the Royal College of Physicians, NICE, Public Health England, the Royal Pharmaceutical Society, the Royal College of Nursing, the General Medical Council, as well as a number of withdrawal charities (REST Project, BAT, The Bridge Project, ADS, Recovery & Renewal). Dr Joanna Moncrieff, Dr James Davies and Prof Peter Kinderman also attended, and in total there were five members from the Council for Evidence-based Psychiatry.
Luke Montagu, co-founder of CEP, gave a short talk at the start.
Following the meeting, the BMA has issued a document which details the agreed areas for action. These include:
· calling for a national helpline for prescribed drug dependence
· writing to NICE proposing a review of the effects of withdrawal from psychoactive prescribed drugs
· establishing a working group with the aim of establishing a multi-disciplinary quality standard guideline for prescribing
· undertaking a pilot of the best way to fund and commission local specialist prescribed drug withdrawal services
· lobbying for changes to the Prescribing Safety Assessment, part of the Year 1 medical curriculum
· incorporating patient experiences within relevant training programmes
· proposing areas of additional research to funding organisations, to include research on withdrawal and the harms associated with prescribed drug dependence
The BMA has allocated responsibility for following up these actions to relevant attendees and intends to hold a second meeting in June to assess progress.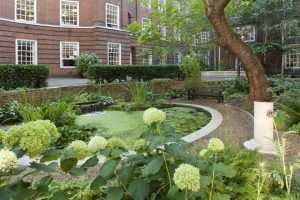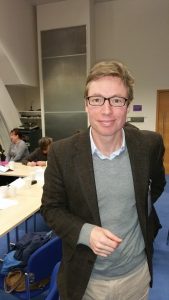 BMA gardens and Dr James Davies, former volunteer for the REST service.
---
26/11/2015:
Melanie Davis at an all party meeting (APPMPDD), of which Melanie Davis is a member, for prescribed drug dependency.
1.Lord Patel of Bradford & Melanie Davis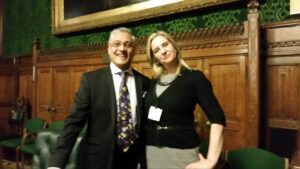 2. Lord Sandwich John Montagu the Earl of Sandwich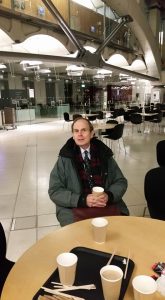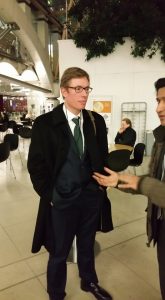 3. Dr James Davies who wrote the book "Cracked" and used to volunteer for the REST project
---
18/9/2015:
Melanie Davis at the international conference "More Harm Than Good: Confronting the Psychiatric Medication Epidemic"
at the University of Roehampton.
A one-day conference which addressed an urgent public health issue: The iatrogenic harm caused by the over-prescription of psychiatric medications.
There is clear evidence that these drugs cause more harm than good over the long term, and can damage patients and even shorten their lives. Yet why are these medications so popular? What harms are they causing? What can be done to address the problem?
This event brought together key experts from both sides of the Atlantic to debate these issues
To watch this event, please visit CEP YouTube channel at https: www.youtube.com/channel/UC8eIK8kuf7tht1gV1HApH0g.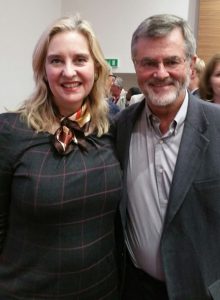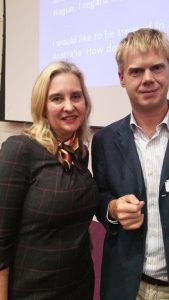 Melanie Davis                                Melanie Davis
& Robert Whitaker                       & Luke Montagu*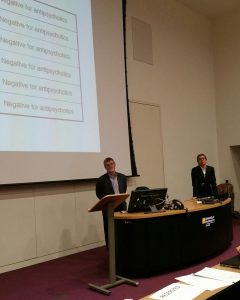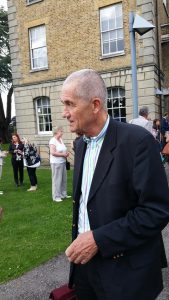 Robert Whitaker and Dr James Davies  // Professor Peter Gøtzsche
---
13/5/2015:
Melanie Davis at Kings College London
"More harm than good"-  Harmful effects of psychiatric medications – conference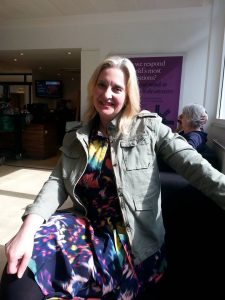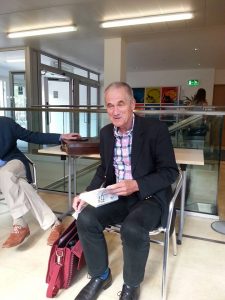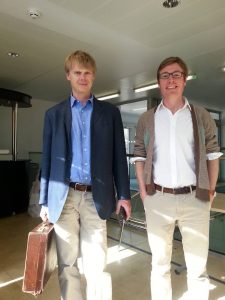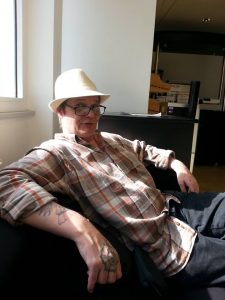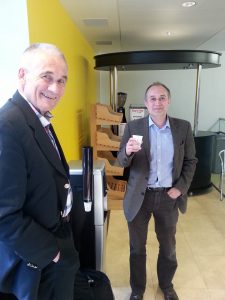 (picture 1: Melanie Davis)
(picture 2:Peter Gøtzsche)
(picture 3: Luke Montagu & James Davies)
(picture 4: Service User Mark)
(picture 5: Peter Gøtzsche and Prof Sami Timimi)
---
4/2015:
Melanie Davis and Service User Mark at the DIP Service – Kings Cross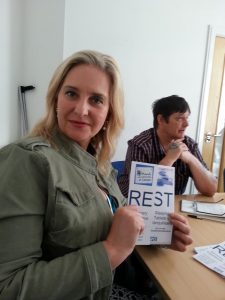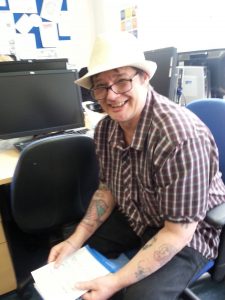 Presentation by Melanie Davis and Service User Mark about the REST service for referral purposes.